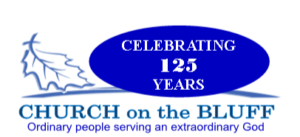 The Quasquicential committee of
CHURCH ON THE BLUFF
Formerly Bluff Park Baptist church
Cordially invites you to join the celebration of
125 years of ministry on the mountain.
Saturday, October 7, 2023, at 2:00om
For an old-fashioned ice cream social.
Sunday, October 8, 2023, at 10:00am
For Worship Service
Followed by Lunch.
Join us or all or any part that you can:
2211 McGwier Drive
Hoover Alabama 35226
205-822-3240
We are looking forward to our special celebration for 125 years of this church fellowship.
Invite your friends. Invite your family. Invite those who once attended church here.
During this our church will be decorated with memories of pictures, pastors, Vacation Bible Schools, etc.
Begin looking through your things that you could share with us for display.
We want to put a memory book together. Would you write at least one memory for us to include in the book? Many memories would be great, too!